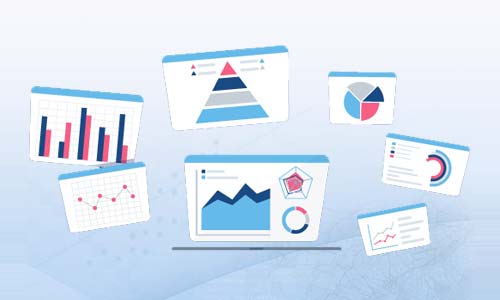 Webindia Master is the most reliable dashboard development company that ensures to develop business insights as per the specific needs of our clients. Our dashboard development services can help you get a detailed analysis of your business through a variety of data interpretation and data visualization options. In today's challenging world, business intelligence has become a key to success. Therefore, we enable to integrate business intelligence dashboard for our clients to fulfil their marketing and business forecasts needs.
Our team is highly focused on developing BI dashboard that helps clients to identify their KPIs (Key Performance Indicators). We have expertise in creating business insights that can help clients to know their business and plan for the future in a comprehensive manner. Our developed dashboard software system helps to satisfy your business requirements such as marketing, sales and deliverables. With the help of cards, tables, charts and graphs, we provide you with a quick analysis of your business in one go under a roof. We design a central approach to get detailed insights about your business.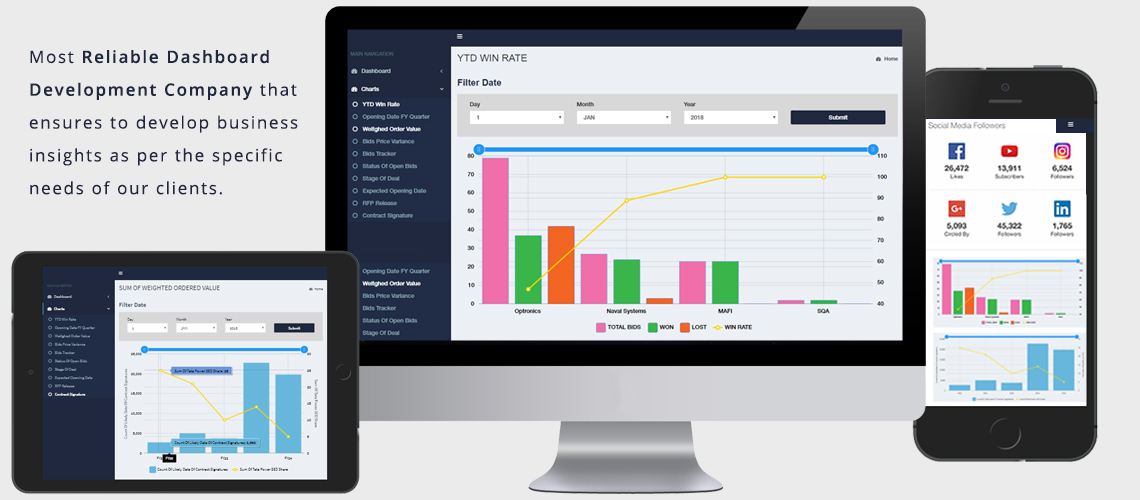 The Need for Dashboard Software Development
Maintaining proper data of your business activities can help to form long-term planning and develop an easy decision-making process to achieve your business goals. The dashboard is a good source for providing business knowledge and business insights integrated with analytics. With the use of informative reports, analysis and graphs, this overcomes the issue of data handling through an interactive approach in the business. It is less time consuming and is essential to have in-depth details of your business activities. It is an ideal choice to combine business intelligence element to access your business growth.
Our Dashboard Development Services
With over a decade of experience in the IT industry, we offer dashboard software development services with rich features that keep track of your business activities and delivers you optimum results.
Sales Dashboard Development
Planning and Dashboard Designing
Modification of Existing Dashboard
Marketing Dashboard Development
Operational Dashboard Development
KPIs Dashboard
IT Dashboard
Business Analytics Dashboard Development
Metrics Dashboard Development
Performance Dashboard Development
Custom Dashboard Development
Dashboard Data Management and Consultation
Dashboard Training and Maintenance
We have crossed several milestones to become the top-notch web development company and has built powerful business tools and platforms for domestic as well as international clients. We offer cost-effective services for all business niches. Be it small, medium or large scale company, we have a proven track record of excellent results for all our clients.
Why Choose Us for Dashboard Development?
At Webindia Master, we offer advanced dashboard development solutions for all kinds of business niches. We create highly organized, insightful and easy to use dashboards that work as an innovative reporting tool for your business. Our BI solutions can help to take your business to new heights.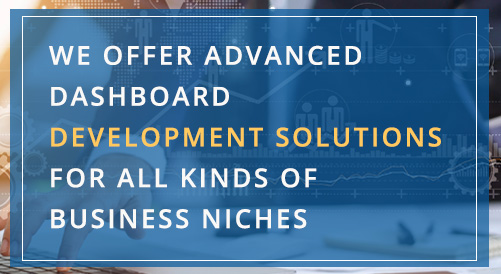 We develop dashboards that are highly accessible with multiple devices.
We pay attention to our client's requirements and deliver the best results.
We create dashboard software that is easy to use.
We develop a secure dashboard to keep your business data confidential.
We provide an advantage of streamlined data sharing as per your needs to take your business one step ahead.
Our board consists of proficient and professional experts.
We provide reliable customer support for 24 hours.
Let's Talk!
Discuss your dashboard requirements and business planning with us. We promise to keep it completely secure. If you want to get your business insights in an interactive manner, we've got you covered.
Brands We Have Worked With
We are glad to serve them our services have been appreciated by these clients










































Creativity is our cornerstore and customer satisfaction is our goal.
Why Choose Us
1100+
SUCCESSFUL PROJECTS
Enquiry