SMO Services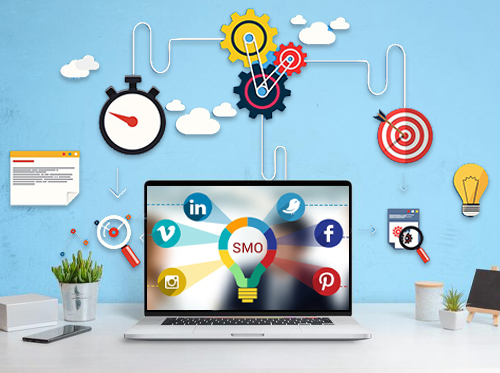 Power up your business with strategic SMO services
Webindia Master stands out as a prominent SMO service provider, specializing in boosting exposure and elevating brand popularity through strategic social media platform management. With our expert team dedicated to Social Media Optimization, we empower your company/brand to reach new heights, engaging your target audience and building a strong online presence. Trust us to help you unlock the full potential of social media, ensuring your business flourishes in the digital realm.
We specialize in SMO services India that
Help understand the brand concept
Create a reputed brand image on social networking sites
Drive a significant volume of traffic to the website
What is Social Media Optimization (SMO)?
Social Media Optimization (SMO) is the process of strategically optimizing and maximizing a brand's presence on various social media platforms to enhance its visibility, engagement, and overall performance. It involves the use of various techniques, strategies, and content creation to effectively connect with the target audience, build a loyal community, and promote the brand's products or services.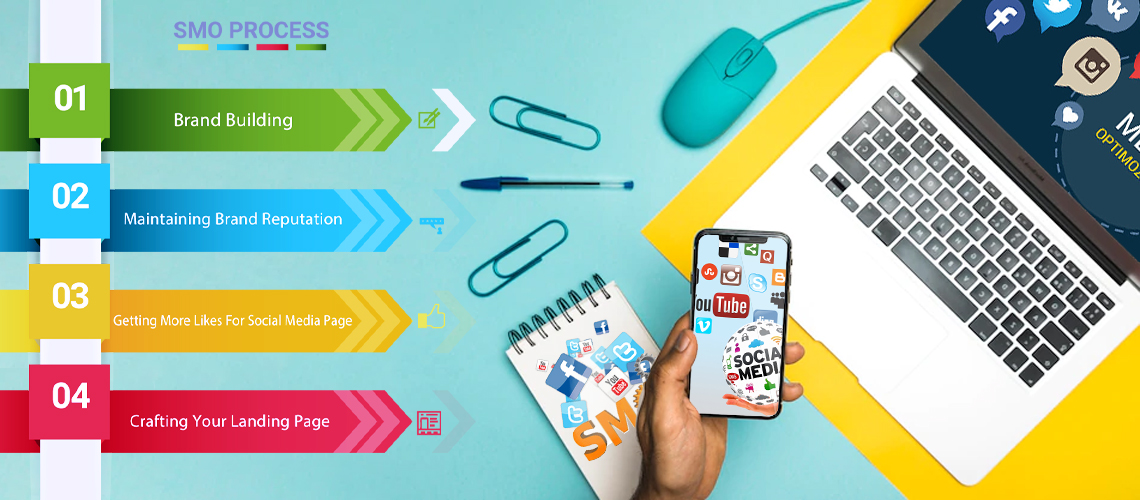 SMO services in Delhi, India encompasses a range of activities, including
Crafting Compelling Social Media Content: Creating high-quality, engaging, and shareable content is the foundation of effective SMO. It includes a mix of captivating text, eye-catching visuals, videos, and infographics that resonate with the audience's interests and preferences. Well-crafted content encourages likes, comments, and shares, thereby increasing the brand's reach organically.
Using Relevant Hashtags: Hashtags serve as powerful tools to categorize and discover content on social media platforms. By incorporating relevant and trending hashtags in posts, brands can increase their visibility to a broader audience interested in similar topics. This strategy aids in reaching potential followers and participating in trending conversations.
Participating in Trending Discussions: Staying up-to-date with trending topics and discussions is crucial for SMO success. By actively participating in relevant discussions, brands can position themselves as industry thought leaders, connect with their target audience, and gain valuable insights into customer sentiments and preferences.
Engaging with Followers: Engagement is the heart of SMO. Responding to comments, messages, and mentions promptly shows that a brand values its followers and fosters a sense of community. Meaningful interactions build trust, loyalty, and positive brand sentiment, leading to increased customer retention and advocacy.
Posting Consistently: Consistency is key to maintaining an active and engaged social media presence. Regularly posting fresh and relevant content keeps followers interested and ensures the brand stays visible on users' feeds. A consistent posting schedule establishes a brand's reliability and dedication to its audience.
Leveraging Social Media Advertising to Reach a Wider Audience: While organic reach is essential, social media advertising is a powerful tool to extend the brand's reach to a targeted audience. Utilizing paid promotions allows brands to reach specific demographics, expand their follower base, and drive traffic to their website or landing pages.
The goal of SMO is to create a strong and positive brand image, foster meaningful interactions with the audience, and drive traffic to the brand's website or other digital assets.
What social media platforms can be utilized for all SMO services in Delhi?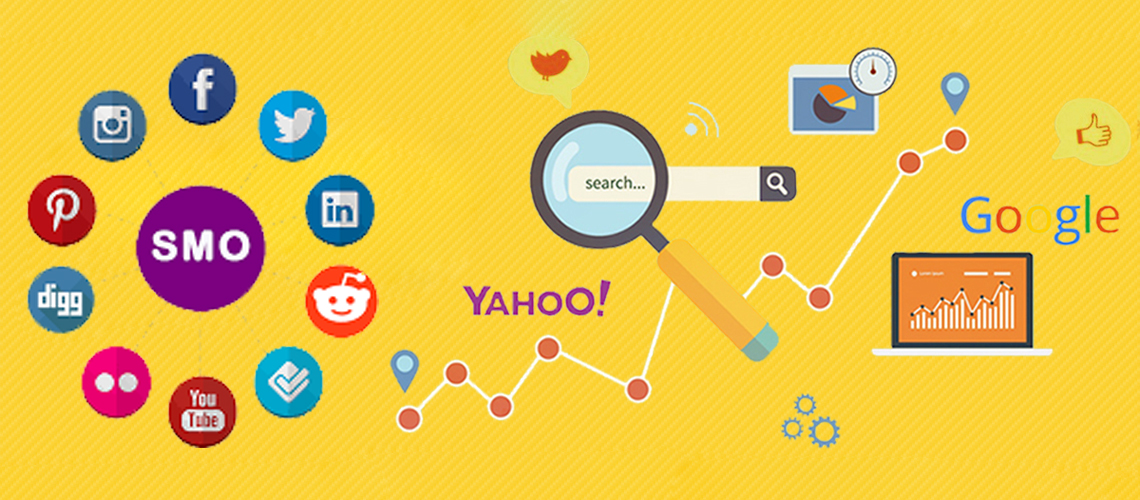 By effectively utilizing social media platforms businesses can expand their reach, build brand authority, and establish a more robust online presence. A few prominent platforms include:
Facebook: Connecting with Your Target Audience
With over 2.8 billion monthly active users, Facebook remains a dominant force in the social media realm. This platform offers businesses a remarkable opportunity to reach a diverse audience, enabling targeted advertising to specific demographics and interests. Creating engaging Facebook content, such as posts, videos, and live streams, can foster meaningful interactions with potential customers, driving brand awareness and loyalty.
Twitter: Real-time Engagement and Trending Conversations
Twitter's fast-paced and dynamic nature makes it a powerful platform for real-time engagement. With its character limit, businesses can craft concise, impactful messages, share updates, and participate in trending conversations. Leveraging Twitter for customer service, brand announcements, and timely promotions can boost visibility and establish a strong online presence.
Instagram: Visual Storytelling and Aesthetic Appeal
Instagram's visual-centric approach caters to the appetite for captivating content. With over 1 billion active users, this platform provides an ideal space for businesses to showcase products, services, and brand identity through striking images and videos. By utilizing features like Stories, IGTV, and Reels, brands can narrate compelling stories, spark user engagement, and foster a loyal following.
LinkedIn: Building Professional Networks and B2B Opportunities
As the world's largest professional network, LinkedIn offers unparalleled B2B marketing potential. It serves as a hub for networking, generating leads, and sharing industry insights. Businesses can utilize LinkedIn to establish thought leadership, recruit top talent, and connect with like-minded professionals, fostering meaningful relationships that translate into valuable partnerships.
YouTube: Visual Appeal and Long-form Content
As the second-largest search engine globally, YouTube's immense popularity underscores its significance for businesses. Brands can create captivating videos, tutorials, and demonstrations that not only engage audiences but also demonstrate expertise in their respective industries. YouTube's long-form content allows for in-depth storytelling and comprehensive brand narratives.
SMO services India is an integral part of digital marketing, complementing other strategies like Search Engine Optimization (SEO) and content marketing, to create a comprehensive and successful online marketing campaign.
How does SEO differ from SMO (Social Media Optimization Services)?
SEO (Search Engine Optimization) and SMO (Social Media Optimization) remains vital in the world of digital marketing. Both practices serve unique purposes and utilize different techniques to promote businesses effectively. Here's a breakdown of their differences and how they contribute to achieving higher rankings and increased sales:
SEO: Search Engine Optimization focuses on optimizing a website to improve its visibility and ranking on search engines. This involves implementing strategies like keyword research and planning, as well as link building, to align a web page with search engine requirements. By doing so, the website gains prominence in search results, ultimately leading to higher organic traffic and improved visibility.
SMO: Social Media Optimization, as the name suggests, centers around leveraging social media platforms to expand the audience and direct this traffic to the website. SMO plays a crucial role in building a brand, diversifying content, and advertising products and services, thereby achieving a broader reach.
Combining Forces for Success: While SMO and SEO serve distinct purposes, their complementary nature makes them a powerful duo for boosting a company's online presence. When integrated cohesively, these strategies work together to achieve top rankings on search engines, increase website traffic, and drive higher sales.
Top benefits of SMO services in India
Expanded Reach: Social Media Optimization Company allows businesses to connect with a vast and diverse audience across different social media platforms. This extended reach helps in increasing brand visibility and awareness.
Customer Engagement: Engaging with followers on social media builds meaningful relationships and fosters customer loyalty. All SMO enables direct interaction with the audience, addressing queries, and responding to feedback promptly.
Brand Authority: By consistently sharing valuable content and thought leadership on social media, businesses can establish themselves as industry experts and build trust with their target audience.
Driving Website Traffic: Well-executed SMO strategies drive traffic to the company's website, increasing the chances of lead generation, conversion, and sales.
Viral Marketing Potential: Social media platforms offer the potential for content to go viral, spreading rapidly and reaching a broader audience, resulting in organic growth and exposure.
Competitive Advantage: Staying active and engaged on social media provides a competitive edge, enabling businesses to stay ahead of competitors in the digital landscape.
Improving Search Engine Ranking: Social signals, such as likes, shares, and comments, positively impact search engine rankings, contributing to better overall SEO performance.
Cost-Effective Marketing: SMO is a cost-effective marketing strategy compared to traditional advertising methods, making it accessible to businesses of all sizes.
Audience Insights: Social media platforms offer valuable data and insights into audience behavior, preferences, and demographics, aiding in refining marketing strategies.
Boosting Content Reach: Sharing content on social media helps amplify its reach and exposure, leading to increased visibility and potential for more shares and engagements.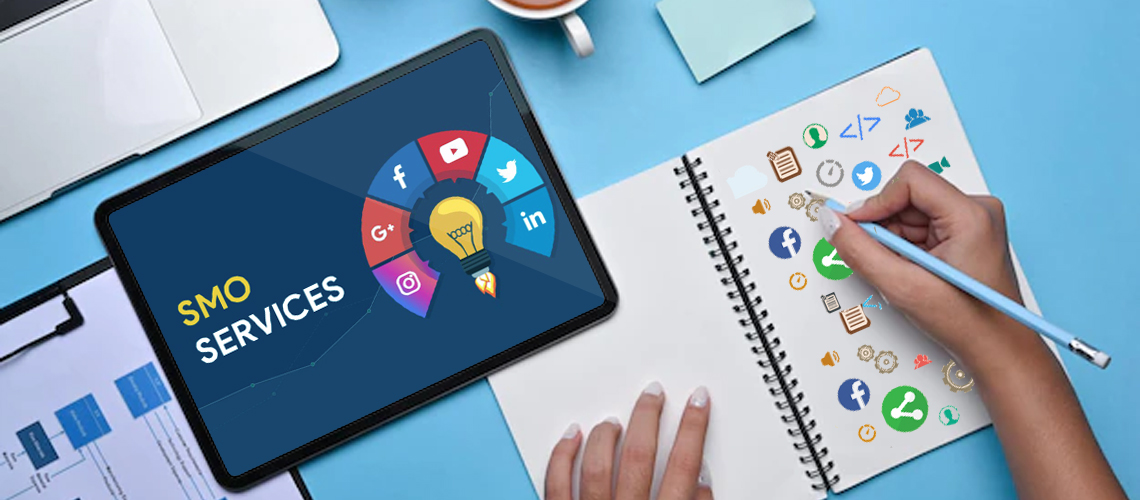 Why Choose Webindia Master for Social Media Optimization Services?
Expertise: Benefit from our skilled team with extensive experience in Social Media Optimization, ensuring effective strategies tailored to your specific business goals.
Customized Packages: Explore a range of SMO packages offering flexibility and options to match your unique requirements and budget, allowing you to seize amazing offers and deals.
Targeted Audience: We leverage precise audience targeting techniques, helping you connect with the right audience on various social media platforms.
Engaging Content: Our team creates captivating social media content that resonates with your audience, driving higher engagement and interactions.
Analytics and Insights: Gain valuable insights into your SMO performance through detailed analytics, enabling data-driven decisions for continuous improvement.
Brand Awareness: Strengthen your brand's online presence with our SMO strategies, enhancing brand recognition and authority in your industry.
Proven Results: Trust our track record of delivering tangible results and successful SMO campaigns for numerous satisfied clients.
Dedicated Support: Enjoy personalized attention and dedicated support from our team throughout your SMO journey, ensuring your success in the digital landscape.
Cost-Effective Solutions: We offer cost-effective SMO services, ensuring you get the most value for your investment and maximize your return on marketing spend.
Stay Ahead of Competitors: With Webindia Master's SMO expertise, gain a competitive advantage in the digital landscape and stand out among your competitors.
Check out our SMO packages to grab amazing offers and deals as per your needs and experience the power of Webindia Master's top-notch SMO services.
Why Choose Us
1100+
SUCCESSFUL PROJECTS