SMO Services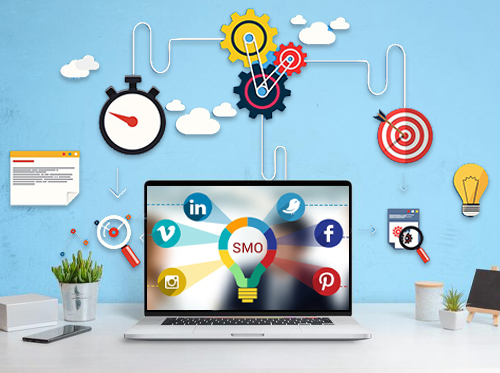 SMO Services That Promote Your Business through Social Media Platforms
Webindia Master is a notable SMO Company in India for enhancing exposure and increasing brand popularity via social media platforms for clients. We at Webindia master help you to take your company or brand to greater heights with a dedicated team for Social Media Optimization.
We specialize in digital marketing services that
Help understand the brand concept
Create a reputed brand image on social networking sites
Drive a significant volume of traffic to the website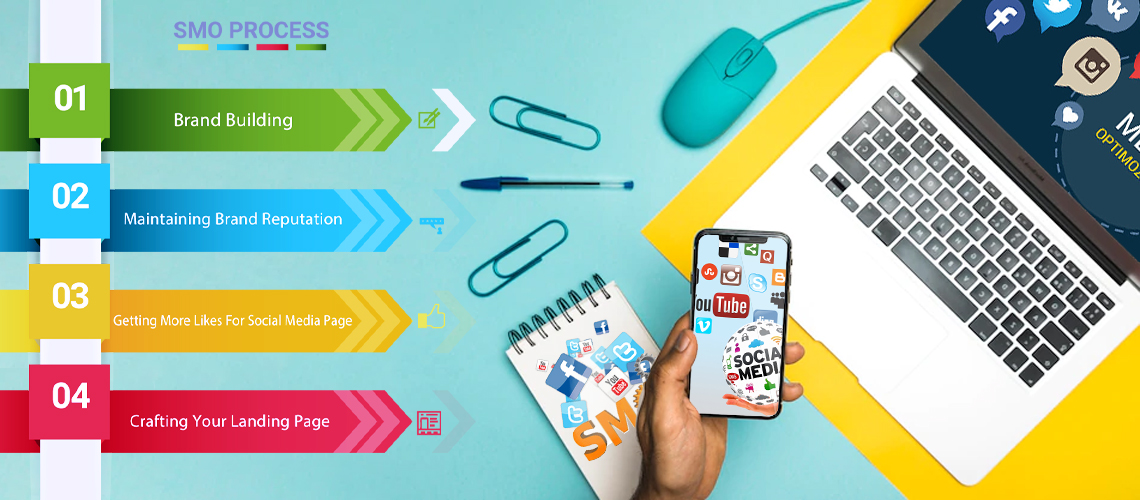 Our SMO services help push the brand's information across social media sites to turn the spotlight on the specific brand. We ensure to highlight the identification of your brand and reach our clients' targeted customers.
What is Social Media Optimization?
A major part of digital marketing that is used to increase a website's traffic by using instruments and strategies of digital marketing on social media platforms. SMO helps make strategic online content by using engrossing content and captivating images or videos. This keeps the audience hooked with the content and helps to build a community on social platforms which indirectly enables businesses to derive traffic from the social media sites to the websites. When a business wants to increase the ranking of the website or get more traffic to the website, optimization of social media can help them reach its desired audience in less time and with a low-cost investment.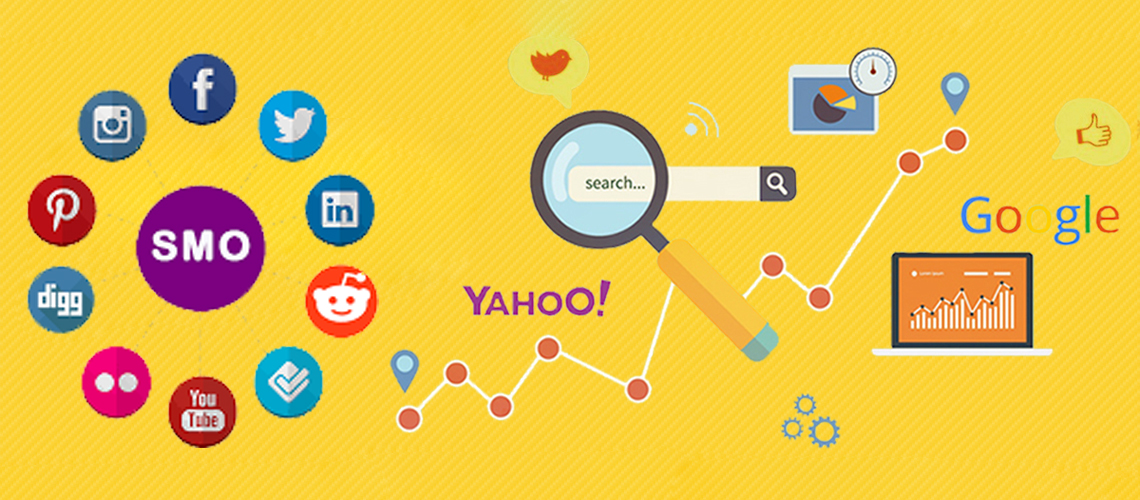 How SEO differs from SMO
SEO is search engine optimization, which means optimizing a website on the search engine to get a higher ranking. SEO uses strategies different from SMO in their websites like keyword research and planning, and link building to optimize a page according to a search engine's requirements. This helps a page rank at the top.
SMO is Social Media Optimization, as the name suggests it enables the use of social media sites like Instagram, LinkedIn, Facebook, and Google Plus to grow the audience and then drive this traffic to the website. Tools like Social Networking, RSS promotion, microblogging, or video promotions are used to make and grow an audience with the same interest in your products or services. Through SMO a business builds a brand, diversifies content, or advertises products and services to get a bigger reach.
Though SMO and SEO serve different purposes and use different techniques to promote a business, the main goal is to use them cohesively to reach the top ranking and increase a company's sales.
Why is SMO Important?
To conform to the best social media practices, SMO becomes essential as it encourages businesses to evaluate, monitor, and amend the content for social media platforms.
SMO helps a business at all stages, it helps to build a brand or to create awareness of the existing products or services of a company in the market.
More website traffic can be driven from social media to the company's website using the tools and techniques of SMO.
The main purpose of a business is to get higher sales by using marketing techniques, SMO enables the company to achieve more customers and sales.
A company engages large masses of audiences from their social media accounts and builds a large community of people with the same interests by using platforms like Instagram, Linkedin, Twitter, and Facebook. Every time a company launches a new product they have an already-built target audience to promote it.
Along with business benefits, SMO helps to build a trusting relationship between a company with its audience. SMO also encourages an interactive means of engagement through comments and feedback sections, this helps a company to know the interests of its potential customers.
How to optimize Social Media Content
Select the right platform
Every business is different from one another, and so are its products or services. Different businesses have different requirements to increase their sales, audience, or market share. Similarly, social media caters to different needs of businesses and selecting the right platforms according to your business requirements is a crucial step. Managers determine the type of content which is suited for the audience and what type of content works best on which platform,with the help of SMO. There are varied platforms like Facebook, Instagram, Twitter, Linkedin, Snapchat, and Youtube, and each of these caters to a distinct demographic of users, hence the content posted for these audiences must cater to their likes and choices to increase user engagement. Social Media Optimization tailors the content accordingly by examining the social media platforms and offers ideal content for engaging with their customers.
Optimization of the Social Media Profiles
A good social media profile is one that has been properly optimized to attract potential customers. Managers use SMO to create appropriate content for your audience in order to gain more followers and views on a profile.The brand name must denote the product or service a company is offering, followed by the bio which is updated with relevant information and tells the audience about the company. The use of high-quality and colorful images and brief but informative videos will pique the interest of individuals of various ages and demographics. The text and the colors must be cohesive and complement the profile.
Create quality content
Content is king, and giving quality content is the major factor for a website's ranking. SMO ensures quality content to gain people's interest. Create content unique to your website, relatable to your audience and up to date with the trends, this helps a brand to stand out and gain more followers. High-quality content can be created by using tools for image or video creation through SMO. A relatable and distinctive tone in your content stands out and attracts more potential customers.
Find Optimal Posting Frequency
The right frequency of posting on your social media profiles is essential to an effective SMO strategy. Too much posting can suffocate your profile and too few posts can decrease your social presence and audience engagement which can ultimately lead to a loss in potential customers.
To find an optimal balance between too many and too few posts is by looking at the posting history. This test will help in determining when and how many posts you should use. Check the frequency and monitor the metrics of your posting schedule and analyze the likes, level of engagement, and clicks. Test and try new posting frequencies to gain more knowledge and find a balance between posting content through SMO services.
Whether starting with social media or already having an online presence on various networks, a company must ensure the use of SMO to make a difference in its website ranking and on social networking sites.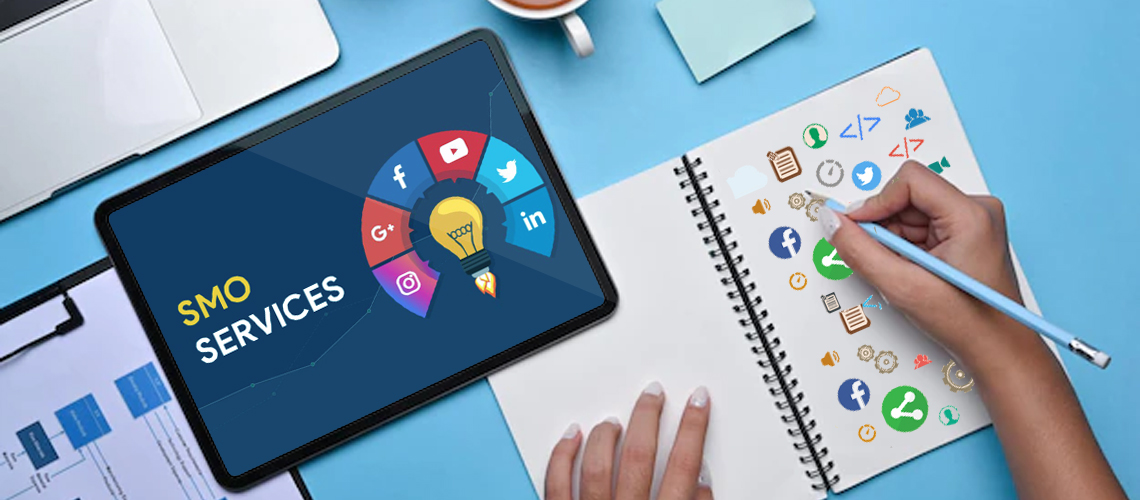 Why Choose Us for SMO Services?
Webindia Master is a reputed digital marketing company in India that helps to furnish business houses by implementing outstanding SMO services.
The digital marketing services provided by WebIndia master involve a lot of marketing and promoting strategies such as SEO, PPC, SMM, ORM, and much more.
We specialize in managing different social media sites such as Linkedin, Twitter, Google Plus, Facebook, and Instagram to meet the specific needs of our clients.
Social media opens a great opportunity for all to market their products and services be it small, medium, or big businesses. Our best SMO services help in gaining more attention and generate leads which result in the improvement of sales opportunities.
We have a team of experts that helps to create a strong image in the market all over the world. We work to enhance the quality of interaction with the audience and increase the sales of an organization. Proper tagging, the addition of images, well-linked content, and other tools are optimized to make a user-friendly platform for visitors.
We are obliged to maintain and keep your social media platforms up to date and provide you with regular updates regarding the work done and progress made.
We work constantly to increase your client base, potential clients, and conversion rates. We use the best marketing tools for your products and services to enhance the visibility of your brand and business.
Check out our SMO packages to grab amazing offers and deals as per your need.
Why Choose Us
1100+
SUCCESSFUL PROJECTS