Joomla Website Development Services India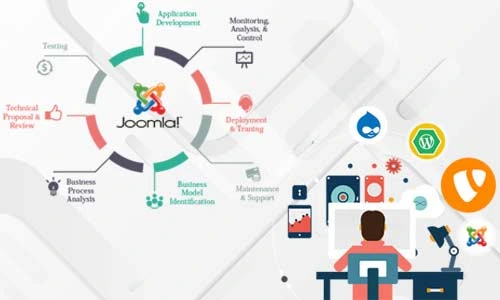 Webindia Master is a leading Joomla Web Development Company in India that provides a wide range of designs and templates to build a powerful identity for the brand. We ensure to transform all kinds of businesses using the latest and revolutionary web development process.
With excellent knowledge in open sources and frameworks, we aim to provide world-class Joomla website development services to meet the specific needs of our clients. Our team offer custom web designing services for web portals and web applications by utilizing hi-tech extensions, reliable features and modern versions.
Why Hire Joomla Developers?
Joomla is the perfect solution to develop a CMS that really gains huge importance with its Open Source values across the world. It has become an accessible source for thousands of people. It is the most reliable which establish a business with stability and flexibility.
With the advanced technology, there is a rapid growth in eCommerce sites. Joomla is faster and has an easy installation process which saves more time and effort. It is a worthy decision to hire Joomla web developers like us who are versatile enough to achieve the desired goals for your company.
Why Choose Us for Joomla Web Development Services?
Our Joomla developers offer infinite features and hundreds of templates and various endless options where you can choose from
We comprehend the needs of our clients and deliver responsive websites/apps to take your company in a progressive direction.
We will surely deliver improved sites to the enterprises and all levels of firms by understanding our clients business objectives. Our solutions help in getting the most out of your business.
We build an interactive platform with several functionalities such as news generator, polls, surveys, testimonials, etc. We give a feature of the better niche with a proper user account and schedule management.
We offer highly attractive template designs and layouts. It proves to be very beneficial to make a selection according to the theme of your site. It can be easily modified and accommodate as per the dynamic needs and changes as per the desires.
We use powerful extensions to enhance the functional structure of an online platform. It supports and enables users to experience multiple languages that help in increasing the usability of the brand.
Our Joomla Development Services
Joomla Web Development
Joomla Ecommerce Development
Custom Joomla Website Development
Joomla Module Development
Joomla CMS Development
Joomla Portal Development
Joomla Maintenance
Our Technical Expertise
PHP
MySQL
Apache Web Server
Ajax/jQuery
XML/Web Service
Joomla Development Plugins
Send us your queries. We'd love to help you.
Why Choose Us
1100+
SUCCESSFUL PROJECTS