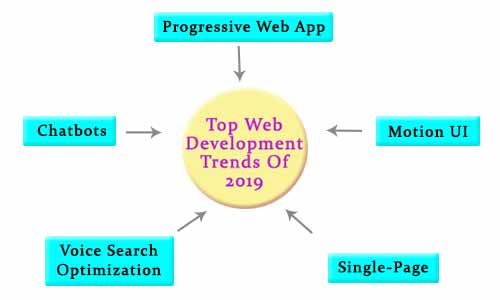 In the world of internet, technology is changing at a fast pace and you will observe massive advancement on a daily basis. The rapid changes in technology have created massive competition among online businesses. It is an integral part to stay up-to-date with the latest trends and technology to beat your competition in the industry.
As the years passed by, the web development company has extremely grown. The new technology has become crucial to adapt to meet the expectations of the clients. Be it small, medium or large scale companies, everyone must have a professional business website, online portal or application to improve their business credibility.
There are millions of active websites out there that are leaving a high impact on the market. Almost every business owner is taking advantage of websites for building a strong online presence. Here are the top 5 web development trends which can prove to be a major game-chargers for you in the present time:
Progressive Web App
Progressive Web App (PWA) consists of modern capabilities that provide app-like experience to the users. It is an adoption of HTML 5. These web apps help to meet certain requirements of the client, are installed to the server, accessible through URLs and are quite similar to native mobile apps. It carries a high level of functionality than other regular website or web pages. It is modern, loads instantly, and provide a seamless experience to the users without bugs. Most of the companies have transformed their traditional websites and web pages into a progressive web app.
Chatbots
Chatbots is an excellent virtual assistance to provide support and fulfil the requirements of the customer effectively. It is a powerful software that writes or speaks using artificial intelligence for the purpose of interacting with the customers to make good brand recognition. These days, there is no need to hire a customer care executive to assist customer queries. You can rely on chatbots to enjoy 24/7 assistance.
Voice Search Optimization
In the last few decades, voice search queries have seen immense growth. Out of 100, 50% of teenagers and adults count on voice assistants like Siri, Alexa, Google Assistant. It is also claimed that in the coming years, almost 50 per cent of search queries will be done via auditory instead of text. It has already become a huge trend and is influencing many of the people. With an increase of the use of voice search optimization, it will ultimately become a necessity to develop this futuristic feature into the websites.
Single-Page Applications
Single-Page Applications (SPAs) advances the performance of the website by loading a single HTML page and then dynamically adapts the changes on the website as per the user requirements. It is excellent for developing a responsive and supportive platform for desktop, mobile and tablet. It loads a single file from HTML and AJAX at a time without making any constant reloads. Most of the web pages are simply loaded by JavaScript. It eliminates the consumption of extra waiting time. Facebook, Gmail, Github are some of the popular examples of SPAs.
Motion UI
Motion UI uses a great assortment of transitions, animations and set of animations which can result in the increase of customer engagement on your website. Almost every web user expects the websites to be simple yet intuitive. The addition of exceptional transitions and animations helps to give a magical experience to the users and directly increase the conversion rates on your website. It is a solid way to make your website stand from other competitors in the market.
Why Choose Us
1100+
SUCCESSFUL PROJECTS
Enquiry