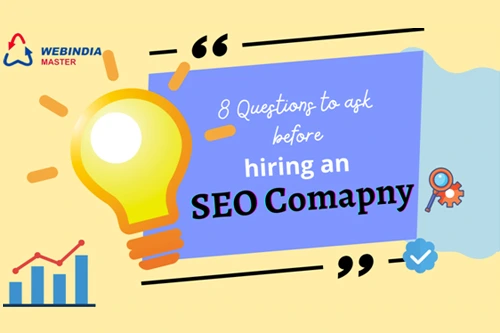 To finalize an agency and a package for your business a lot of research goes into it. And let's say you have decided upon the agency and their package seems decent but you're confused about how to approach them and how to confirm if they are the one whom you want to help with your business. We have curated a few top-of-the-list questions reading their services and packages that will not only help to determine if they are right for you but also if you can trust them.
How will the package aid my business?
The first and foremost thing you should ask is how this package will benefit my business. Pay close attention and how they choose to answer your question could also check their authenticity. Take this question to also know more about their services and packages. If you notice they do black hat SEO techniques that could be a red flag like keyword stuffing and building low-quality backlinks stay away from them.
How will you customize your SEO package for my venture?
This is an important question as no SEO activity is ever the same for two businesses. Digital marketing is all about customization according to your needs and the structure of your business. In the same manner, your target audience and platform type of content are designed. If they can think of no way to help you out with that you should walk away.
Hence, different packages cater to different domains. Are what digital marketing companies mostly offer. An SEO company in Delhi will help you determine the package for you.
What modern-day digital marketing services are included in the package?
By this question, you can figure out if the digital marketing agency is keeping up with the trends in the market that will keep you in running with the competitors. Ask website-related questions as to how they can optimize your website, can they add voice search, web and video marketing, or any other services in the package. You can figure out if they call 'Google my business' when it has been renamed to Google Business Profile. Knowing these things about the agency will help you understand if they will be able to help in the webspace against the competition.
Can you break down the cost and if there will be any additional charges in the process?
Be clear from the beginning about the cost of the services in the package. If you like the agency and so far they are answering all the questions nicely, see it as an investment that will pay you back eventually. And if you think you'll require any additional services that will benefit your business, go for it. Be clear about it from the beginning, make everything clear from day one.

Do they provide regular reporting with the package?
They should be providing you with one! There is absolutely no reason that they shouldn't, don't even bother to move forward. In today's internet-centric world with sites like Google analytics it's very easy to provide the results of the campaign. You have the full right to know where and in which direction is your campaign headed. So that if you find something not suitable you can communicate with them.
After how long can you expect to see the results of the SEO package?
It is after all the main reason that you have reached out to them. Make sure that you communicate your goals and get a rough estimated time. You could also ask them about their previous records and how they have helped their clients to achieve what they had asked. Most SEO campaigns take up to 6 months to see the results.
Which is their most selling Package and if you can see a sample?
A good SEO company in Delhi will have nothing to hide, they will be more than happy to show you their work. It's always better to know now than regret later, understand their experience, and how they can help you.
Do you outsource any of the services in the SEO package?
It is very essential to know, However, most companies do outsource their work and many have the team in-house. But if they are outsourcing they should be transparent with it. Beware of a few crucial services they shouldn't be outsourced, the core services. As making those services are a lot smoother and better.
Does your package guarantee results ?
Actually, the answer should be NO! As no one can and should guarantee the results. The agency should be confident that they will based on their previous work however, should not feel like empty promises. Digital marketing is a dynamic sphere where nothing is specific. So, beware of fasle traps a comapny may lay just for you to buy the package.
Conclusion
These questions will surely help you determine which way to be headed and make the decision a lot easier. And if you receive the answers, mention them to the right agency. Make sure they are a one-stop solution, not just an SEO company as later when you want to expand you don't have to specifically go to a different Website Designing Company in Delhi. Whereas, as you grow you can add or remove services or may upgrade the package.
Why Choose Us
1100+
SUCCESSFUL PROJECTS
Enquiry