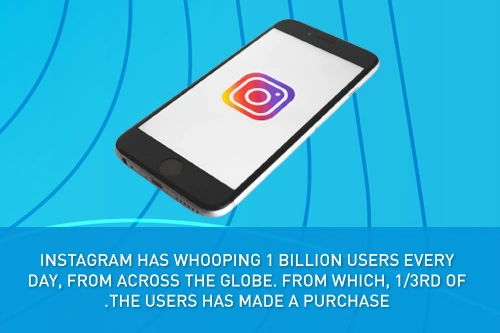 - With the rise in the use of social platforms, media like Instagram have gained immense popularity. This has eventually brought business into the same platform. So, the question arises, 'how is eCommerce possible on Instagram?'.
DID YOU KNOW?
Instagram is a social media that is designed to bring that urge in the people to opt for it. In such circumstances, a business can have leverage here. Wondering how? Well, today, this application has features that can help businesses to grow their reach and sales.
According to the best eCommerce SEO company, when you see an opportunity, you ought to grab it. Especially when there is an exceptional benefit associated with it.
The popular set of merits associated with having a live business on social media like Instagram is as follows:
Engagement: This is one of the greatest advantages one can seek from this platform. You can interact with your customers, introduce new launches, communicate with the customers about the satisfaction level.
Ranking: One can place their products and services in the real-world setting.This helps you to grab an excellent position on the global market as well.
Customers: You can improve the difficulties faced by the customers at large. This will also simultaneously improve customer loyalty.
Sales: This is a fact that one can bring more sales to their business through this medium. And this will help you grow your business.
Cost-effective: Instagram isn't expensive when it comes to business matters. Unlike other platforms, Instagram works in favour of your brand through cost-effective means.
Every SEO company in Delhi makes sure to have an account on Instagram due to the same explained benefits.
Now, today, in this blog, let us explore how one can utilize Instagram for business deals. So, are you ready to dive deep?
If yes, keep reading! We assure to make this reading worth it!
Ecommerce businesses have gained acceptance from the people at large in India. And Instagram seems to be the tool to expand your business these days. The more you jump deep, the better you will know.
So, now, without wasting much time, let us explore the factors of Instagram applicable for businesses thatare laid down by the best eCommerce SEO company in India.
Here we go!

ACCOUNT TYPE
On Instagram, you will find 2 major types of accounts that can be used for your purpose. According to the SEO agency in Delhi, they are Personal account and Business account. So, naturally, you need to choose a Business account for your needs as it offers you various tools that can grab an essential number of sales and traffic.
Choosing the right account type is your first step for Instagram eCommerce

RECRUIT INFLUENCERS
As per the latest reports by anSEO agency in Delhi, the term 'social media influencers' was coined through such mediums. To increase your brand credibility and also reach, you can always opt to recruit influencers that make your sales and traffic better. You can use influencers as a medium to convey the benefits and features of your product.

INSTAGRAM ANALYTICS
Make the best use of Instagram analytics for an effective understanding of your performance. This builds a good deal of understanding regarding your posts and stories at the same time. It gives you the total of views, likes, comments, shares, and saves. This is an evident form of consideration that helps to improve your content.

INSTAGRAM SHOP
According to the SEO company Noida, one can use Instagram shop features as your product catalogue. This is an evident form of choice to make for the best possible experience for the users to decide on a purchase. This can include product descriptions, price tags, and images. This brings authenticity to your brand and product.

INSTAGRAM GUIDES
Believe it or not, Instagram guides is the best way to tag other resources that have published or recommended you. This is an effective way to gain more impact and trust from the customers or new visitors. This works as beneficial as the link to your website added to your bio. This makes it convenient for anyone to understand your reputation. Or else you can again use it for your products and services.

HASHTAGS PLEASE!
The more you focus on the various aspects of social media business SEO, the better you will know that hashtags play an essential role. There are almost 30 hashtags that you can be included in your post. So, make sure you use them all. As per the latest review by SEO company Noida, this is a prominent method to choose.
These are the best ways to make your eCommerce succeed on Instagram. If frequently posting is difficult for you, hiring the leading SEO company in Delhi is the right choice.
More or less, there is a tremendous change to witness if you engage in the best ways. And an eCommerce SEO company in India will make sure to do so.
Want to know how?
Connect with the highly-reputed eCommerce SEO companyto gain access to the world of success now!
Enquiry