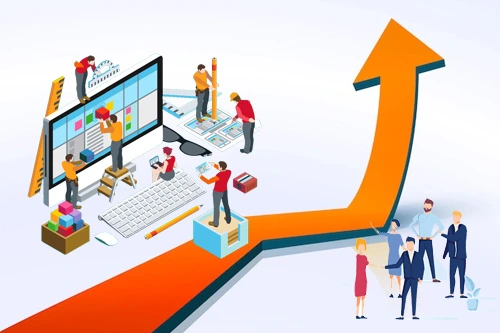 An SEO package is a bunch of SEO services a digital marketing agency decided to offer a client defending on their requirement. A package ideally consists of standard services that are essential to notice any progress in a business, where additional services keep on getting added as the price range increases, with additional results. SEO helps a company's internet marketing strategy to get visibility and beneficial revenue.
Do you know that over 93% of online transitions start with an online search engine like google? Looking good and increasing visibility is a lot harder than just putting up a website. What many don't know is that Google considers 250 ranking factors before putting up your website on the first page. There are many SEO Company In India that offer different packages. We discuss why your company needs one.
You can try to mimic all the services but to be clear you're running a business and SEO takes skills, knowledge, and expertise. If you wish to do organic marketing on the web, SEO is your go-to solution and you must find a package from a known, reputed company. To run a business today, it's very important to have a positive presence on the internet. If you want to have organic visibility then SEO is for you. However, To maintain that position you'll need to have an SEO package from the Best SEO Company in Delhi and we'll help you decide to select the most suitable one.
The essentials to your SEO package

To decide on selecting the right SEO services you need to look into depth. Consider their portfolio, Experience, and if they match your business goals.
If you're SEO services and confused about which package to opt for. Well, there is no hard and fast rule to find the right agency. It all comes down to your needs. But there are a few services that should be a part of the package and they are
Technical SEO
High-quality content
Authoritative backlinking
And other various off-page SEO
Earlier when we said that Google has 250 ranking factors, when filtered down it comes down to these important ones that play a very important role: core elements help get your website to be relevant in the search engines.
We'll discuss a little more about each one
Technical SEO
Technical SEO is all about making sure your website is healthy and responding to all of Google's Algorithms. This requires fixing all the technical issues that may be causing a hindrance for your page to load. Studies show that on average most people quit the page if it takes 5 or more seconds to load. All the other SEO activities will be of no use if your website is inaccessible.
High-Quality Content
You need to tell your own story and be the ideal company that everyone wants. For that, you need to be able to tell consumers who you are. As we all know, content creation is an important aspect of SEO. it can include the creation of articles, blogs, landing pages, etc. You need to have quality content to explain your products or services otherwise you're just a site with pictures to click at. Websites that lack content struggle in ranking at the top, high volume keywords simply because they aren't robust enough. Writing relevant, informative content on subjects related to your industry can help your business content rank well on any platform.
You're also a business owner. You'll need promotion content as well, whichever SEO package you choose, make sure there is a balance between Education and promotional content services. Any SEO Company In India will be able to help you out with content but you need to find quality content.
Authoritative Backlinking And UX
Associating your company's site with other high-quality websites builds your credibility online. That requires thorough research and content to get published. The worst you can do is get your company's link published on websites with low DA, which will harm your online reputation. The second Most thing is a good user experience. Ux plays a very important role in converting site visitors into paying customers.
Various other off-page SEO
Off-page SEO includes a variety of services to promote your business other than your website. This may include link building, Guest blogging or PR activities, and many more. A SEO company will help you have innovative methods to distribute your content and convey your business message out there.
Do you know hiring a SEO Agency in Delhi will actually help you save money in the long run.
What features should your SEO package include?
A custom SEO strategy with Domain specialty
SEO is not a one-time done and forgotten nor a short-term solution thing; it needs constant long-term attention. SEO can never be the same for any two companies. Your SEO services should be personalized keeping in mind your specific business goals and industry competition. They should serve your domain size and area. As there is no point in going with a package that targets internally when your business is local.
Keyword research
Alongside a general strategy in place, your SEO agency should be able to research and identify the key phrases and keywords to target for. They should also be able to provide a competitor analysis and the complexity of keywords. Make sure they are up-to-date with the changing algorithms.
Company profile & Cost
Make sure the prices justify the services. The cost of SEO services can vary from area to area. The prices of an SEO Company in Delhi will differ from those in Mumbai. At the same time don't go for the too good to be true cheap prices, many offer unavailable schemes that they don't have the resources to fulfill. An SEO package at a good price matters but so does the company you're getting it from. Do your research about the company, visit their website, social media platforms and read reviews. Check their clients, choose one with a diverse portfolio.
Regular Reporting
The Agency should be transparent with the results. If they won't inform you, how will you know? An agency should keep the clients updated and informed regularly about the progress Via emails or meetings.

Conclusion
The Best SEO Company in Delhi will pay for themselves over time. You should connect with one at the start of your business. That helps with better growth with up-to-date websites, SEO, and a lot more services. With this blog, you should understand the basic services your SEO package should include, and if you want more services you can always get additional services depending on your goals. The ideal package and agency are that you connect with and see working in a long term, that understands your business objectives.
Why Choose Us
1100+
SUCCESSFUL PROJECTS
Enquiry