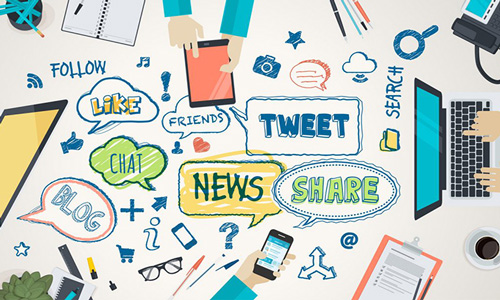 Social Media Marketing (SMM) is the best way to use the popular social media channels for promoting your brand, products and services. Social media is becoming a progressive strategy for both marketers and researchers these days. Most of the business owners have realized the importance of connecting, communicating and engaging with the audience through social media sites. In the world of digitalization, you need a strong social media presence to bring transformation into your business.
In today's era, many of the social media marketing companies can help to improve your medium of promotion and reach your target audience via social media networking sites. Their effective tactics and tools allow improving your engagement with customers all over the world. Don't limit yourself to the traditional promotional strategies and miss out on millions of great opportunities. Come and let's learn how to use social media marketing effectively to engage more audience:
Identify the Right Social Media Outlets
Initially, figure out the best social media platforms to run the campaign. It is a great way to start planning and decide what's best for you. Let professional optimize your website in detail and suggest ideal social media outlets which prove to be the most beneficial for your company. Social media marketing experts create a tailor-made strategy and give you genuine advice on how to use various social networks such as Twitter, Facebook, Linkedin, Google+, Pinterest, Instagram, Youtube, etc.
Recognize Your Audience
It is important to identify your target audience for better reachability. Focus on where who and whom you want to target. Search for the customers who have a necessity for your products and services. Make sure to concentrate on the relevant keywords and particular geographical location to generate better leads. Interact with high profile people and find potential customers to develop a trustworthy platform.
Publish Interactive Content
Content is always a key to success. You need to create good content to spread awareness about your products and services among the audience out there. It is best to hire a professional team who will handle all your social media tasks and will be active on the created platforms regularly. Make sure to post content about your new arrivals, products, services, events and achievements to bring a huge impact on your web presence. Quality content helps to add value to your brand and drive more customers to the site. As a result, it generates better leads, sales and conversion rates.
Use Links and Trending Hashtags
It is important to add links and hashtags on your every social media post to increase your connectivity and build curiosity among the audience. Examine the popular hashtags often used by people around the world or at your targeted area. This helps to find you easier and also keep you up-to-date with the trends in the market. Putting relevant links to your post can helps to bring traffic directly at your site. The higher the visibility you get, the higher the traffic and sales you enjoy.
Encourage Sharing
Inspiring your customers to share their reviews and personal experiences are the best way to catch the attention of more audience. Ask your existing customers to share their views about your products, team, services and work to gain more popularity. It also helps your customers to navigate your news updates, fresh arrivals and events. Sharing game on social media is one of the best sources to get success within a limited span of time.
You can also read our benefits of social media marketing to know more. Feel free to ask any question on SMM. We also provide world-class and affordable SMO Packages to build your social media presence.
Why Choose Us
1100+
SUCCESSFUL PROJECTS
Enquiry