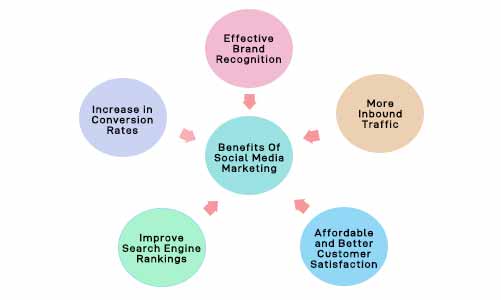 Social Media Marketing (SMM) is a key to success for entrepreneurs, enterprises and even startups who are willing to optimize their web presence and increase their sales. In a modern era of the internet, SMM is becoming a vital part of successful internet marketing solutions for all kinds of business niches across the globe. It is said that social media marketing is not just an activity, it is a good investment of time and money to increase brand awareness.
SMM helps to increase your online business reputation, traffic, leads and sales taking a minimum amount of cost. Most of the marketers say that social media has helped them to generate massive exposure for their company. If you haven't hired a Social Media Marketing (SMM) company yet, then you're really missing out on a bigger piece of a cake. Any business owners should use it as a substantial marketing strategy. Come and let's unfold some of the advantages of Social Media Marketing services:
Effective Brand Recognition
Social media networking sites make your brand more accessible to a wider range of customers. SMM is one of the most effective digital marketing services to inform people about your products and increase the visibility of your business. People can interact through your relevant content and like, comment and share your posts. As a result, it helps to reach a potential customer and can increase your brand awareness among the audience.
Increase in Conversion Rates
Creating brand visibility can directly help to earn great opportunities for higher conversion rates. By just posting a blog, image, video or even a comment may drive viewers to your business website and improves traffic. When customers found a brand that interactive, it builds a trusted brand image and people wants to develop a good relationship with you. Taking your business to the platform where people often share, like and communicate can surely improve the conversations on your existing traffic.
More Inbound Traffic
When you market your business on social media, your inbound traffic does not stay limited to your existing customers. It helps to open immense chances to attract new customers. Remember, each content you post allows to gain maximum benefits and can reach to the new customers. If you want to target audience outside your loyal customer circle, social media proves to be the best and super effective. Once you start using social media, you will definitely enjoy more inbound traffic.
Improve Search Engine Rankings
Search Engine Optimization (SEO) is essential to gain higher traffic and rankings of the website on the search engine. There are a large number of marketers who have been using social media. Posting a good quality content such as blogs, infographics, business updates, employee images, etc. will make your social media account more interactive. As a result, it gives more opportunity in a diverse industry to generate more traffic and it will directly help to increase the search engine rankings.
Affordable and Better Customer Satisfaction
Social media platforms help to connect with your new or existing client. Whether a person wants to file a complaint, send a review or ask a question, it lets you to directly engage with the customer within no time. Also, it opens a wider scope for the transformation of your business goodwill and takes your business into the spotlight by just investing a minimum cost. It can act as a voice for your brand with a larger audience across the globe. Being active on every comment describes that you do care for your visitors and aim to offer the best experience.
Why Choose Us
1100+
SUCCESSFUL PROJECTS
Enquiry