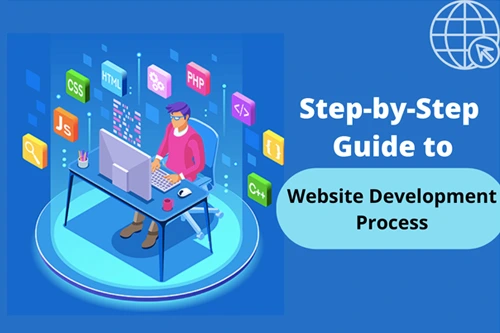 When it comes to developing a website from scratch, most businesses feel overwhelmed by the process as t is not a very well-known phenomenon. If you're planning to develop a website don't worry we have an ultimate guide. In this article, we will explain step by step the entire web development process to help you understand the important aspects of it. If you're planning to get a website for your business read till the end.
Having a good and responsive website is a very critical part of your business as it is the face of your business that customers will interact with, if it is of low-quality visitors will assume that may be the case with your products and services. A good website will help you appear on the top of the google search when combined with advanced SEO practices a good SEO Company in Delhi can help you achieve top search results. As there are so many frameworks, technologies you need to choose the right resources. WordPress is one of the most popular website development tools, that takes over about 28% of the web.
Before you hire and ask a web developer to develop a website for you there is a process you should be aware of, If you're planning to outsource it there are these 8 steps you need to know to get a better understanding.
The eights steps of a web development process are:
These steps will help you with a greater understanding of the process and when you hire an agency you will not feel out of the place where you'll understand can communicate what you desire on your website.
Do your research
Planning
Choosing a CMS
Designing
Main development
Content development
Website testing
Overall Maintenance
Do your Research
The first and the most important process of a web development process is to do comprehensive research of actually your business needs and lacks. There are two types of websites you can build for your business - Static and Dynamic. A static website has a fixed number of pages and information that can not be changed in the future despite users' interaction and feedback. Whereas, the dynamic website is much more interactive and there are many aspects with making a good overall user experience.
It depends on you and your vision whether you need an enterprise website, eCommerce website, or a personal branding website, you need to first decide. Once you have decided the type you need, you can ask your Website Designing Company in Delhi they will show a few examples of each to get a better understanding from the user point of view.
Planning
When it comes to planning you need to think long-term and then plan accordingly like the technology, CMS, hosting, and other critical things. The foremost thing you need to decide is which type of website are you building- a static or a dynamic website. According to what you choose you'll need to select the right technology stack that will define how your website will perform. You can choose from WordPress, CMS along good cloud hosting to get exceptional performance. Whereas you can choose static with a shared hosting system, which is also adequate if you only need a website for service or product demonstration.
Choosing a CMS
If you need to launch your website faster at a low cost, choosing CMS is the best option.WordPress is one of the best and most popular CMS as it is free and open source.
What makes it even more popular is that it is highly personalized and you can integrate several third-party services.
Another crucial advantage of using WordPress is that you can choose to form a variety of themes and performance plugins that will stand out. Whiling picking the theme for your website make sure to never choose a nulled theme or plugins as they contain malicious scripts. Such themes can slow down your website performance, hire a good Website Designing Company in Delhi that will help with choosing the right theme and layout.
Designing
If you're building your website from scratch and not using any CMS, it is very important to first build wireframes to understand the flow of your website better. If you have hired a good company you can ask your designers to create a few wireframes that show what the overall website looks like. With this, you can compare different layouts and choose the best one that suits your business the most. The most beneficial approach of wireframes is that you can have a demo of what the final output will look like and make the changes accordingly.
There are several tools in the market like Figma that will help you create quick wireframes for your website so that you can choose the right one. If you're hiring an SEO Company in Delhi and paying then you should also focus on that if your website looks appealing and professional so you can generate maximum leads and revenue. The number of pages, layout, font, the positioning of the elements, color theme or be it graphics everything becomes clear with wireframes.
Main development
Once the layout is finalized via wireframes you can move on to developing the main website and turn your idea and design into a flawless website. When it comes to website development your designers will use the technology stack that you had picked out earlier. The developers will start creating a custom code from scratch to build a smooth functioning website.
Content Development
We know that Content is the king and can't deny this while working on your website. Once your website is fully designed and developed then it is time to work and enhance your content. A content gives personified touch to your website and makes it seem a legit business to your website you can write about your story, how you started a business and what the goal of your business or if you work towards any social cause. The content has to be uniquely written the description of the product and service should be adequate and clever to derive visitors into customers.
You can hire professional writers, that should be at the same place you go to get your website developed a professional SEO company in India will help you create a blog, research keywords. Never copy the content from any other website and use it on your new website as it will cause more harm than benefit
Web testing and Overall maintenance
Web testing is among the other tasks is an important thing, once your website is live, up, and running search engines plays a lot of focus on the overall usability and ranks it accordingly to the user experience. There are several tests that your Ecommerce website development company will help you take to check if there are any bugs or issues. Some key aspects to take care of are our website speed, mobile-friendliness, multiple screen tests, and more.
The next step is crucial and comes as a service to your functioning website. As the Seach algorithms are changing rapidly you must keep up with the latest trends and update your website. In the maintenance, the developer will check if the website is working seamlessly and if there are any broken links, UX performance, and so on.
Conclusion
While developing your Website you should keep these in mind in order to get to out of your development process and add things that will benefit your business. While having a conversation with your developers you cab refer to these points and check if they are providing all the necessary services and taking care of your website professionally.
Enquiry