Organic Success in an Exceedingly Competitive Industry
Case study of how WebIndia Master helped 'Bhakti Bharat' in organic promoting and social media visibility to achieve an edge among top websites.
Bhakti Bharat was established in 2017 as a website to preserve knowledge regarding divine literature. It provides knowledge and details of pious literature and temples in India.
Their mission is to preserve ancient temples and divine literature within the hearts and souls of individuals forever. Bhakti Bharat has been established as a website that gives authentic knowledge on India's mythological literature.
Bhakti Bharat is one of the leading and authentic online facts providers that informs folks regarding the timings, schedules, dates, rituals and beliefs of Hinduism, Jainism and Buddhism.
Cumulative Organic Growth in a Major Competitive Fabrication
Over the years, promoting and advertising have modified significantly. The cyberspace has given entrepreneurs and businesses an opportunity to plug their product/service to immeasurable users. Although SEO encompasses a high ROI, most businesses accept social media and paid ads for promotion. SEO requires direct efforts, once you rank, your sales will skyrocket with no continual expenses.
What was Bhakti Bharat wanting for?
To maximise visibility
To spice up user expertise
To extend website guests
The mechanism adopted by Webindia Master:
Developed an integrated site-wide keyword strategy
Our trained professionals at Webindia Master developed integrated site-wide keyword strategy by active program keyword optimisation. We focused on installing keyword optimisation into their link building strategy.
Uncovering user intent and organizing the website's content
Content organization among the online websites can be the simplest way to rearrange the data in order to make it easy for the readers to seek data easily without any discomfort.
Create a URL strategy to take advantage of established value
Creating a URL strategy is an utmost important step. It not just helps determine the location of the source but also aids in establishing value.
Amend and merge sections of the previous database to support keyword strategy

We at Webindia Master produce ways to remodel our client's on-line presence as per the shift among the digital world. By removing and merging some sections of the previous electronic computer to support keyword strategy, we inclined towards upgrading their website to generate any organic traffic.
Post website launch, SEO observation to mend problems
SEO observation holds utmost importance for any website's higher ranking. By perpetually observing the SEO efforts we tend to gather insights as to what activities translate into higher activities and lead conversions.
Results Post implementing our digital promoting solutions
Bhakti Bharat was finding organic promoting less convenient but after collaborating with Webindia Master the growth rate of their organic traffic was commendable. Webindia Master focused on rising traffic from organic searches. Our SEO team improved ranking for main keywords, inflated sign-ups and tried to create world awareness.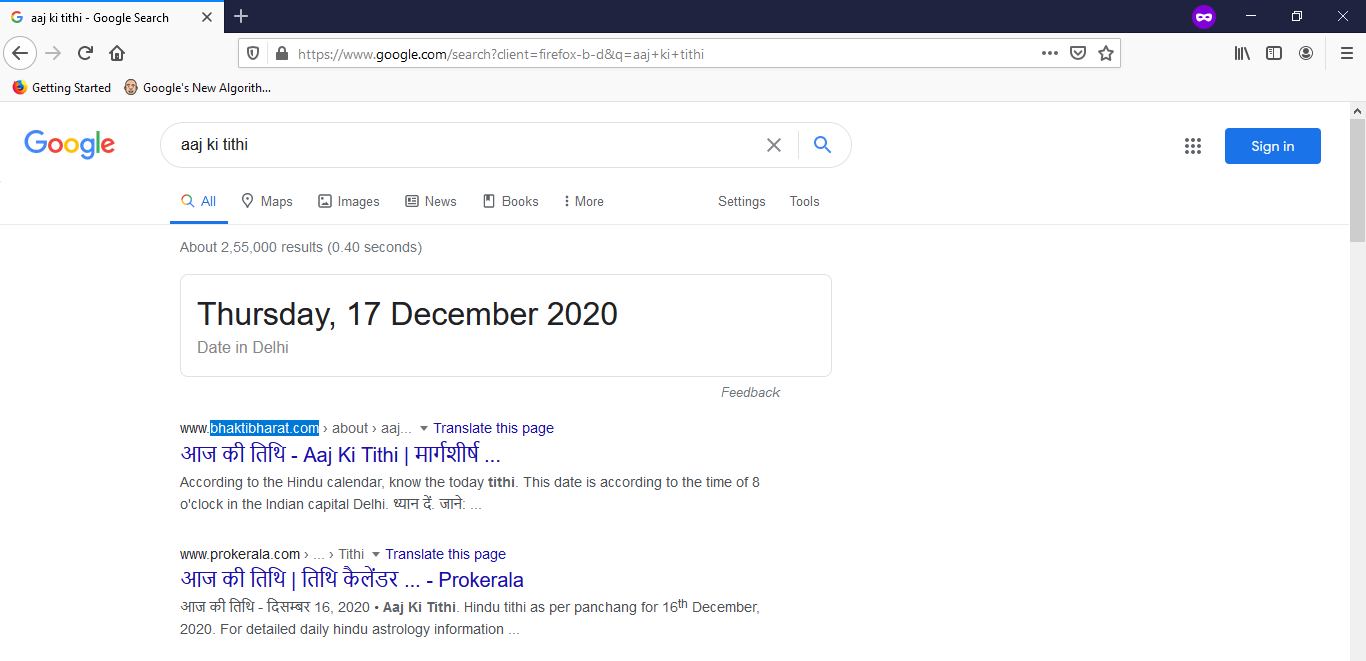 SEO methods implemented on Bhakti Bharat
Long-tail keyword analysis
Long-tail keywords are longer and more specific keyword phrases that visitors are more likely to use when they're closer to a point-of-purchase or when they're using voice search. By implementing this strategy, it resulted in a commendable uprise of their online guests.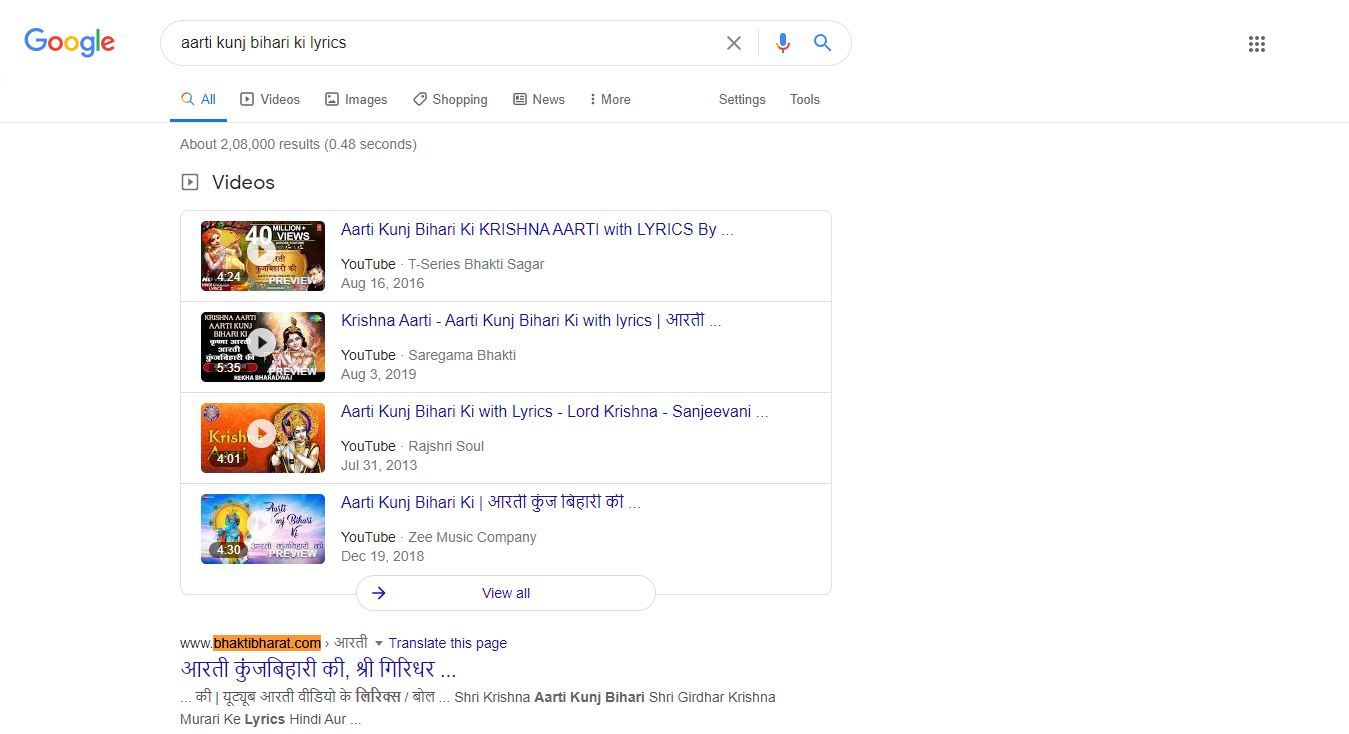 Image Source: Created for this article II: Search ranking results of https://www.bhaktibharat.com/
Website structure refinement
Website structure refinement is a technique which incorporates use of powerful tools which refine low- resolution crystallographic information sets. This helps the website to load quicker and show alternative web content in no time.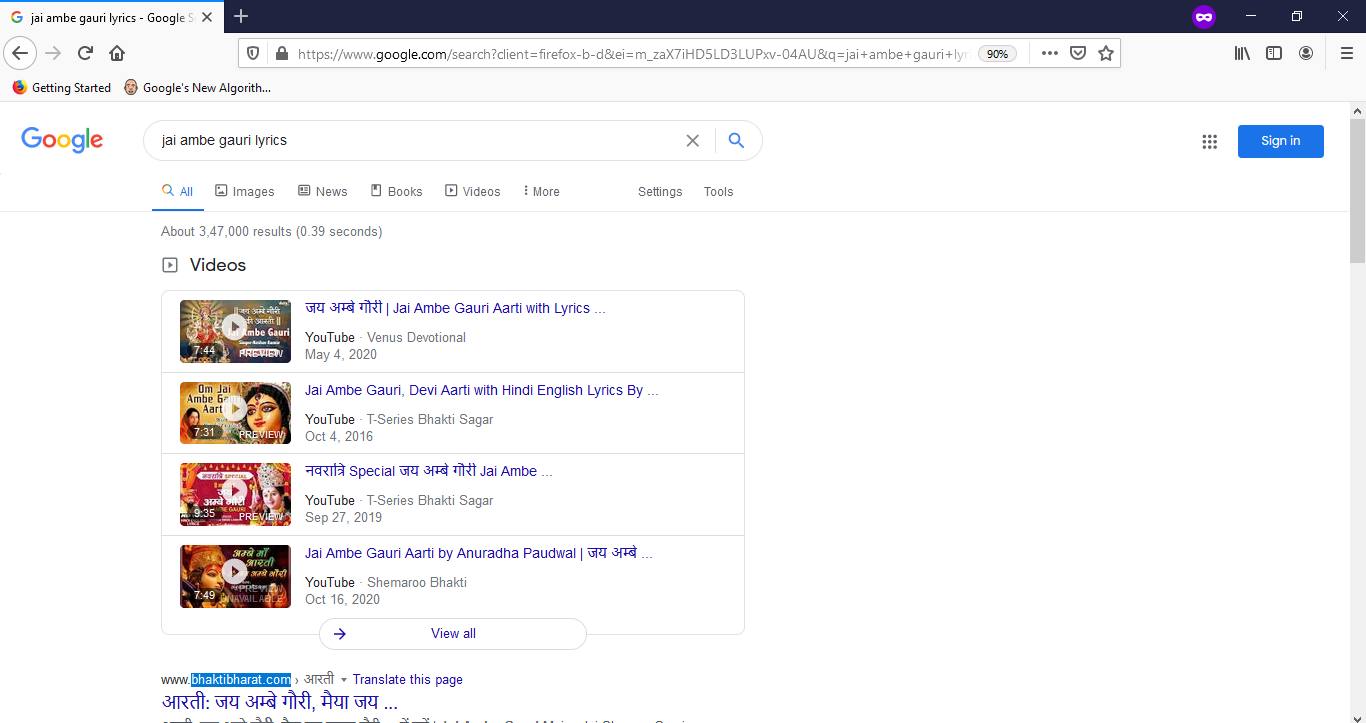 Image Source: Created for this article III: Search ranking results of https://www.bhaktibharat.com/
Optimizing the website for mobile
Mobile optimisation is the method of adjusting your website content to make sure that visitors who access the website from mobile devices have an equally good experience. Optimized content flows simply between desktop and mobile devices to supply the user with an impressive expertise.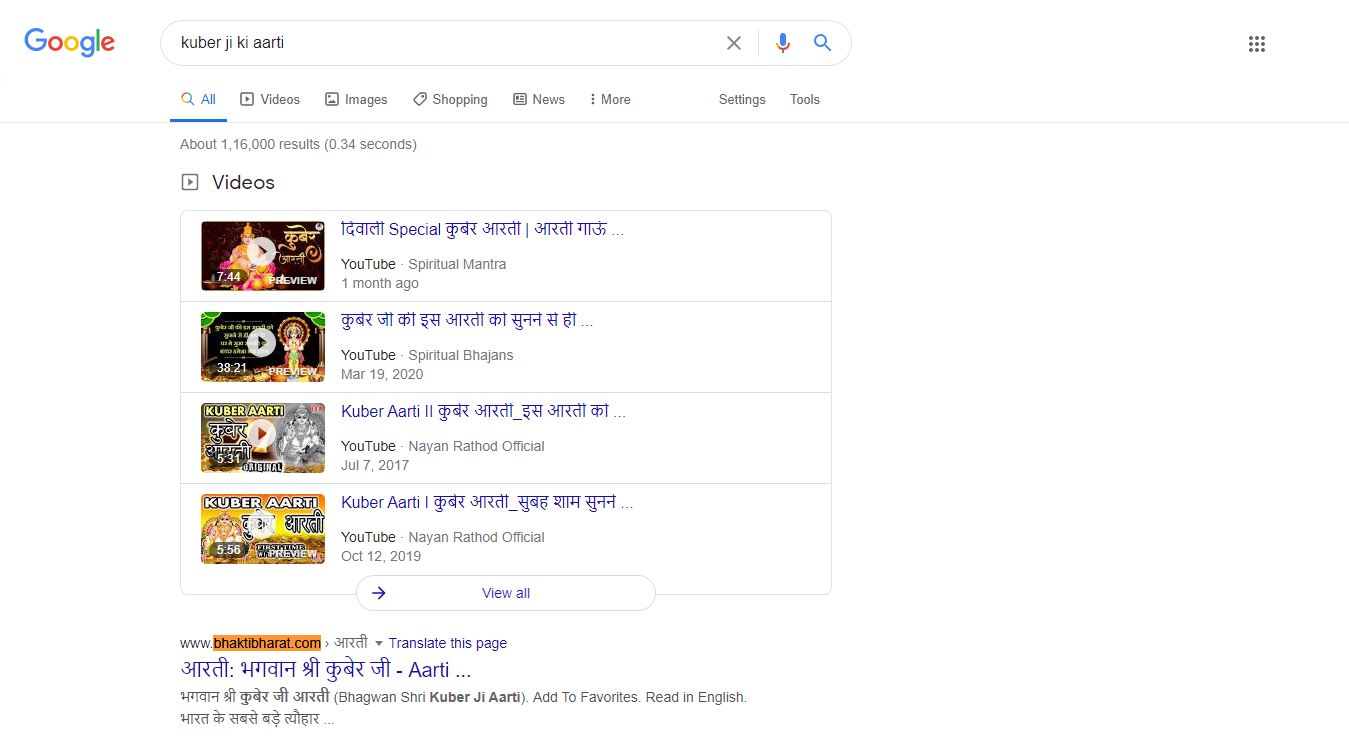 Image Source: Created for this article IV: Search ranking results of https://www.bhaktibharat.com/
Rank for four competitive keywords
Guest posting
Guest posting is also referred to as 'guest blogging'. This is an act where guest bloggers write for similar blogs within their industry so as to draw in traffic back to their website. This is often conjointly done by boosting their domain authority by external links to high- authority domains.
Editorial link building
An editorial link is a link that results from a site having good content and marketing techniques. An editorial link is not paid for or directly requested, as is the case with acquired links. Editorial links are part of a strong link profile.
Image Source: Created for this article V: Search ranking results of https://www.bhaktibharat.com/
Skyscraper blogging and link outreach
The Skyscraper Technique is a link building strategy where you improve existing popular content and replicate the backlinks.
We executed this strategy with three major steps.
We Found a relevant piece of content with voluminous backlinks;
Creating better content;
Ask those linking's to link to your superior content instead.
Bhakti Bharat's Journey of success with Webindia Master
With our advanced Digital Marketing packages and dedicated cooperation, we tend to help Bhakti Bharat, become one of the leading religious websites of India. Our SEO analysis helped generate an incredible quantity of organic traffic to Bhakti Bharat's official website.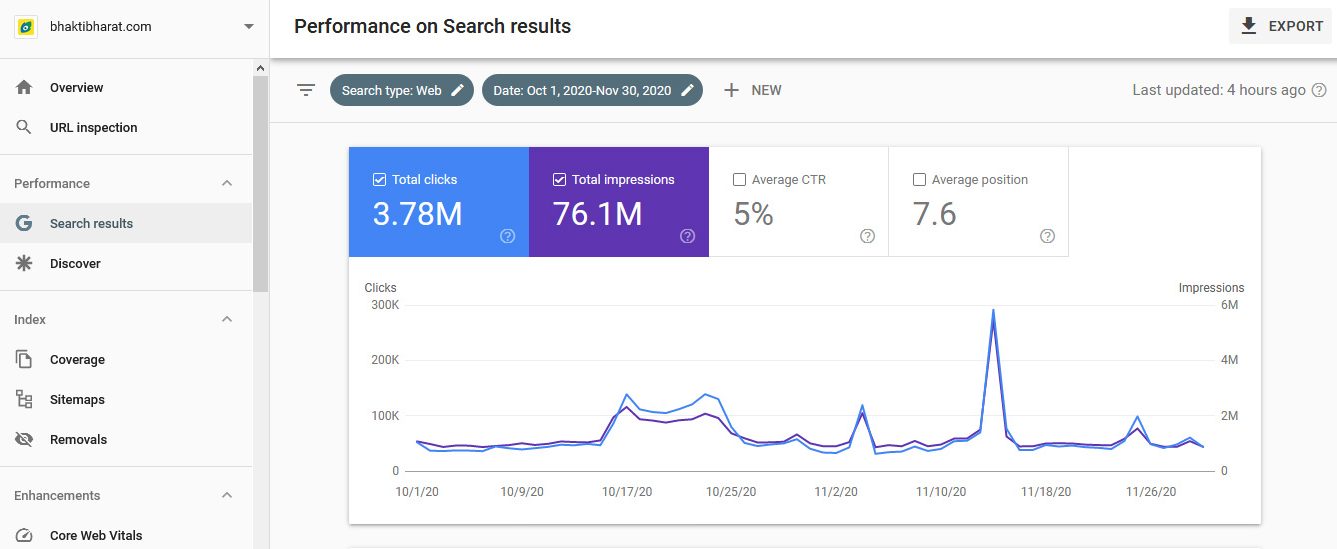 Image Source: Created for this article VI: Search ranking results of https://www.bhaktibharat.com/
Conclusion
Within the ever-changing world of digital marketing the phrases we tend to hear from our clients circle round the "Customer Journey" and achieve pinnacle SEO success for their brands.
At Webindia Master we specialize in understanding client journey by taking into thought some important practices such as:
Shaping the behavioural stages
Orienting client goals with the stages
Plotting out the touch points
Determining if the customers are achieving their goals
Making recommendations for modification
As a number one SEO company in India, we tend to implement all the relevant methods to lift your overall online visibility by delivering relevant and reliable brand information to the targeted prospects.
We use legal techniques to bring your websites on top and make you stable in the near future. We always keep in mind all necessary aspects such as constant track on the latest keywords, engagement report, ranking report, conversion tracking and other combined elements to improve visibility of your local business.