Home Appliances Industry Case Study
"Case study on various electronic and electrical manufacturing brand"
SEO, PPC, and SMO services are few of the prominent sources that can be effective to generate leads as per the nature of the business. The undeniable prosperity a business might encounter by applying the services granted by professional digital marketers is something worth experiencing.
We, at Webindia Master, have been serving a number of firms and brands who required utmost attention and assistance for a better ranking on the digital platforms. We have successfully generated a tremendous change in the conversion rates with a unique strategy and planning for numerous companies dealing with problems. There are a wide range of service packages that we offer on the basis of the nature of the business concerned. With the help of this home appliance industry case study, you will get a base idea about the way we work.
And the Maharaja Whiteline is one of the brands to acquire SEO services and other associative services from us who later experienced a change to a great extent.
Let us read ahead to know "how"?
About Maharaja Whiteline:
Maharaja Whiteline is ruling the industry of manufacturing home comfort appliances in India for decades. Maharaja Whiteline took over the industry with the first innovation ever since it emerged. This was the brand that introduced the all-in-one solution mixer grinder to the market for better and convenient use of the master chefs of every household.
Today, Maharaja Whiteline is the leader and a well-known brand in the world for the smallest, powerful and easy-to-use kitchen appliances.
This case study on various electronic and electrical manufacturers, that is of Maharaja Whiteline, will give you an idea regarding the benefits of acquiring SEO services.
Challenges Faced:
Maharaja Whiteline already had a digital address before alliancing with the Webindia Master. Though the problem spotted was for the upright ranking and dissatisfaction for the existing website. It was becoming difficult for the brand to achieve a score of attention and awareness on the organic search of the digital platform as the brand was not an e-commerce brand. And thus, they allied with us!
Choosing The Right Door to Success:
After consultation with us, in the year 2018, our professional team began with an in-depth research regarding the market structure and other competitions. We realized that the competition of Maharaja Whiteline on the internet platform was with e-commerce websites. Such as Flipkart, Amazon, Snapdeal, and so on. And to rank top with these e-commerce portals despite being a non-e-commerce website was an absolute challenge to take up.
We being a company that works for several national and international bands to assist them to reach their goals with utmost sincerity and work, we happily took over this project as well.
The Journey Begins…
We proposed a budget-friendly service package under their prescribed framework. The process to enhance the website began step by step.
We designed a new website for Maharaja Whiteline by discussing with them on a time-to-time basis for a transparent process. The website was created by considering all the secure methods.
We associated a great note of rich quality content on the website that made a great impact as well. We updated category wise content which worked beneficial and also showed a great impact in the process. These contents were portrayed in an SEO-friendly manner which stood advantageous on the search rankings.
We spent a good amount of time interacting to understand and figure out their requirements well and good. We put forth an SEO campaign strategy that would suit the best of the nature of their business. We paid close attention to each product they manufactured and put it on display for the customers or users to be aware of the wide range of options made available by them.
Slowly and steadily in a few months, the website of Maharaja Whiteline began attaining organic traffic and leads. The website being a non-e-commerce venture, the brand witnessed a great shift in the traffic as compared to the older website and approach.
We worked on detailed research that suits different kitchen and home comfort appliances. The numerous keywords were worked on for a better organic result. To give a few illustrations, the top keywords are as follows:
Juicer Mixer Price List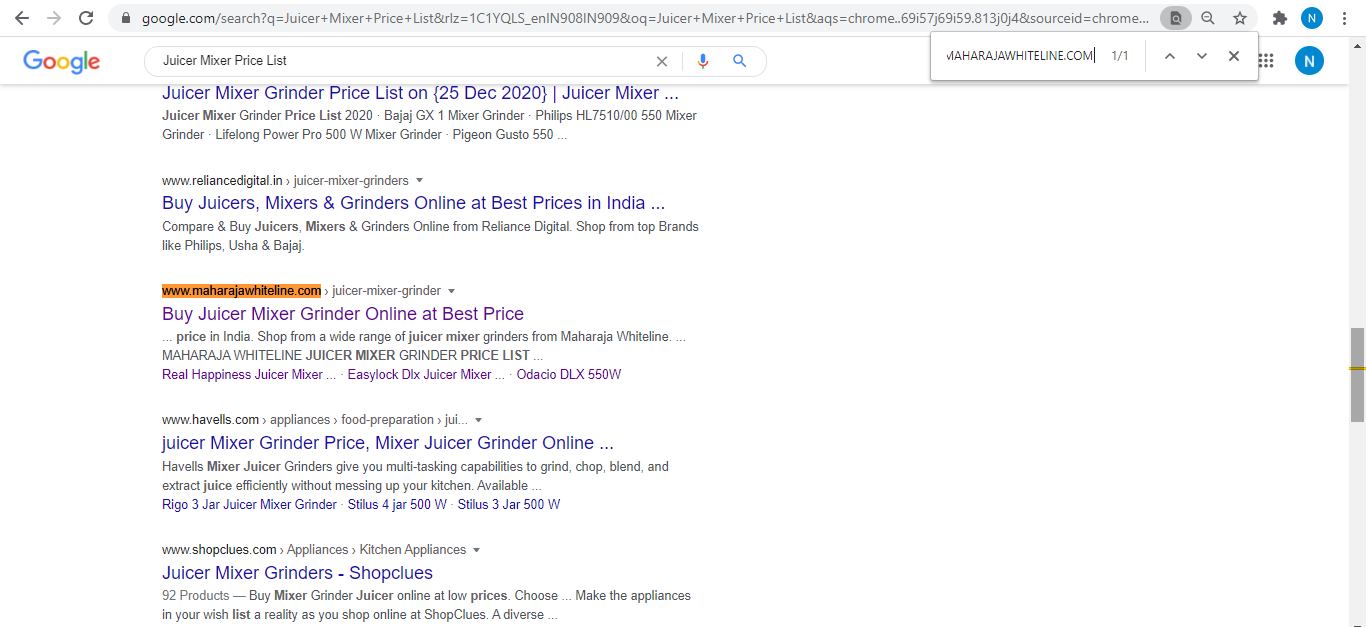 Image Source: Created for this article I: Search ranking results of https://www.maharajawhiteline.com/
Mixer Grinder and Juicer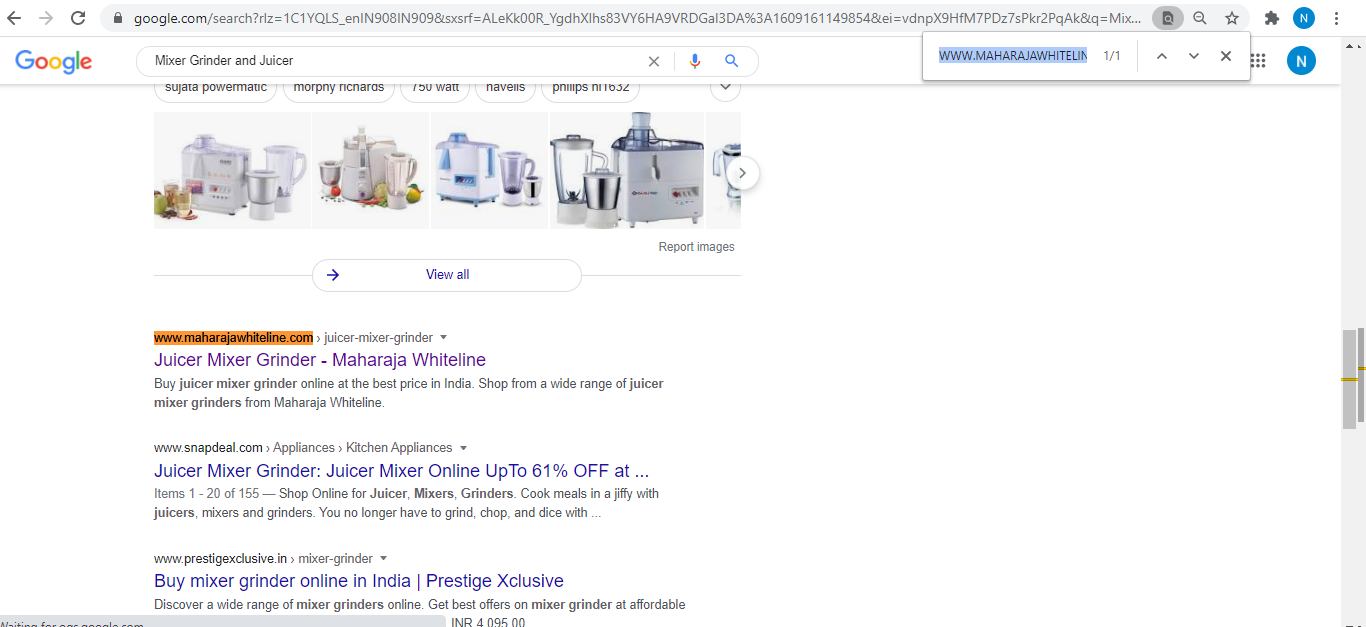 Image Source: Created for this article II: Search ranking results of https://www.maharajawhiteline.com/
Lava Carbon Room Heater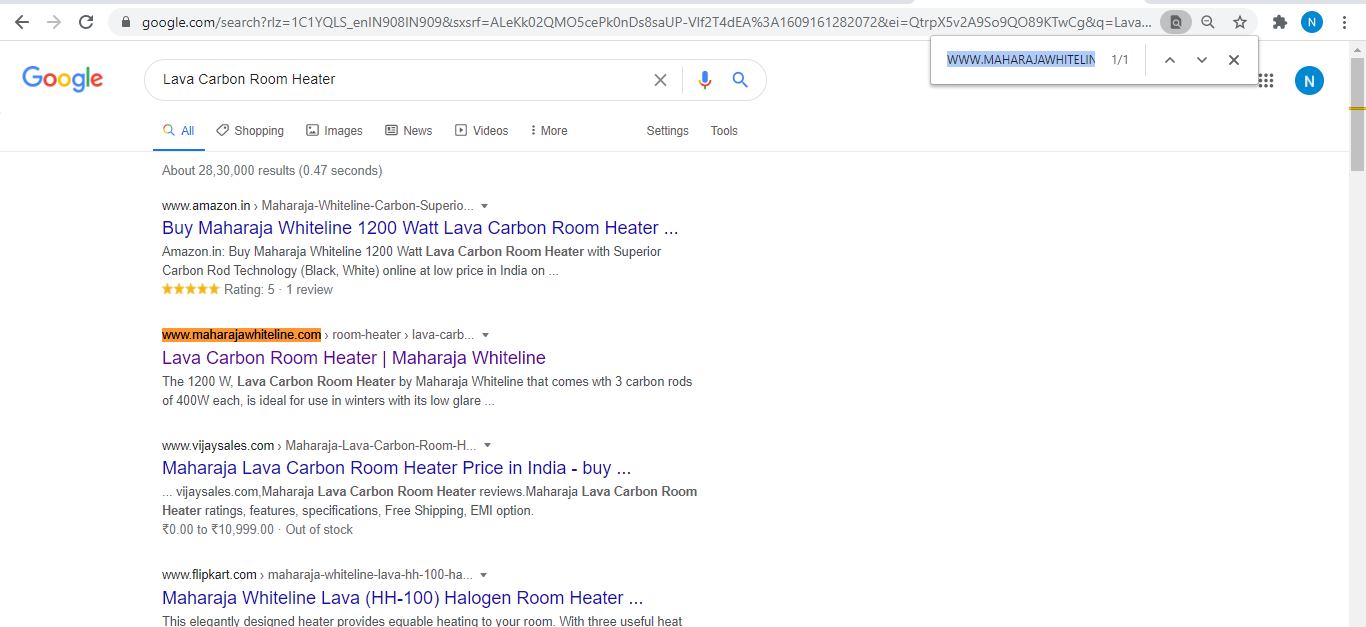 Image Source: Created for this article III: Search ranking results of https://www.maharajawhiteline.com/
Nano Carbon Room Heater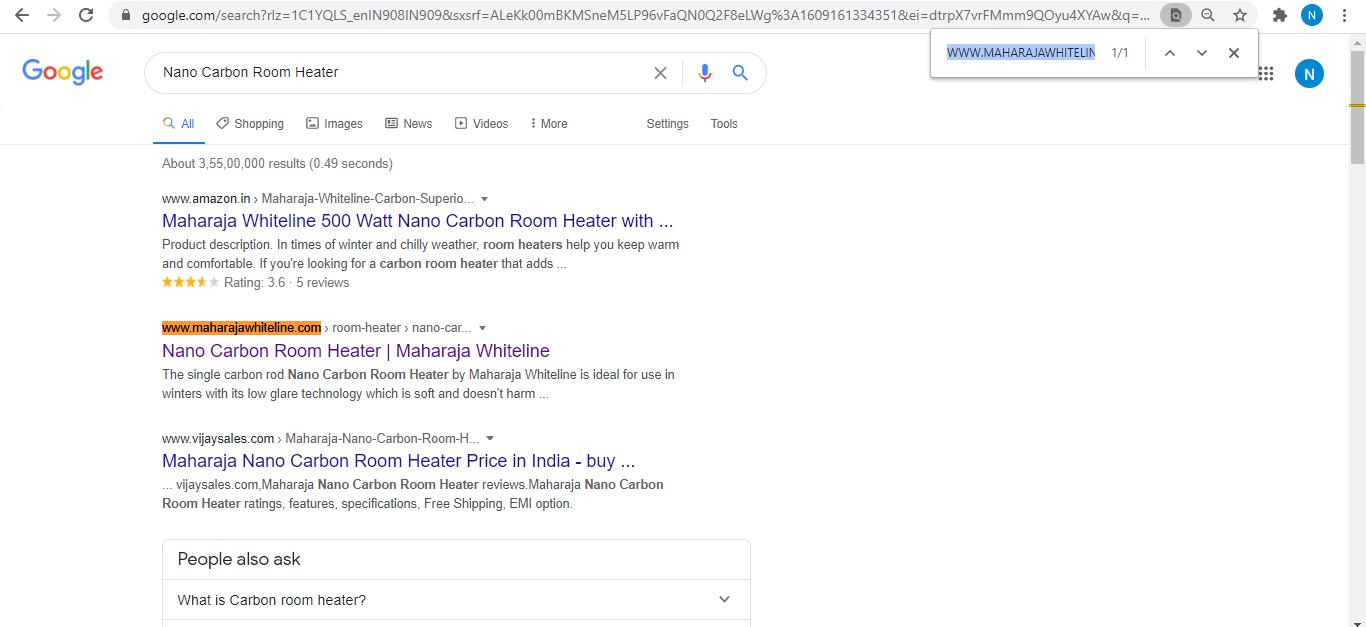 Image Source: Created for this article IV: Search ranking results of https://www.maharajawhiteline.com/
Lava Halogen Room Heater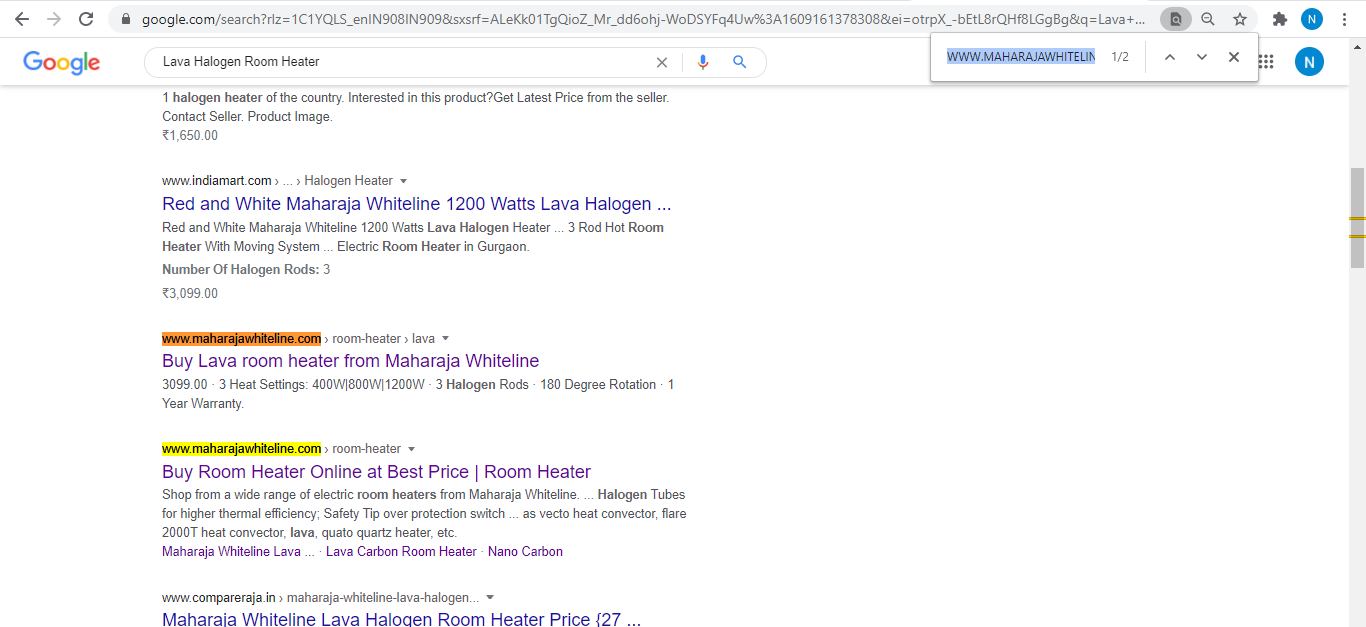 Image Source: Created for this article V: Search ranking results of https://www.maharajawhiteline.com/
Breakfast Appliances Price List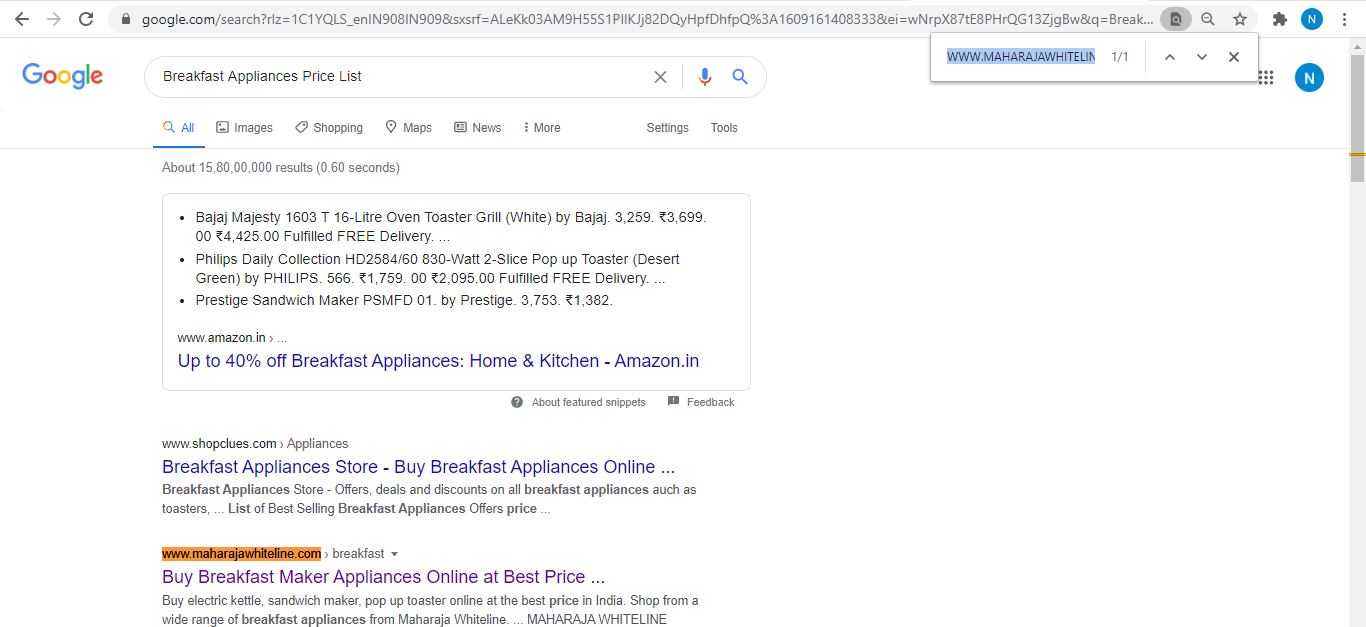 Image Source: Created for this article VI: Search ranking results of https://www.maharajawhiteline.com/
These are just a few of them to showcase. The on-page optimization by the on-page experts and off-page optimization played a strong role in bringing organic search traffic from various search engines.
The Google promotion worked to a great extent that built a strong ground of improvement day by day. The source of awareness increased to a better reach as well. The benefits of SEO services were one by one earned by the company without any hindrance. Such as more foot traffic, build online visibility, higher leads, improved content marketing, enhanced brand reputation and image, and so on.
This manufacturing industry case study is to bring attention to the efforts and handwork put by us for helping the brand to reach its desired goal.
Results:
The brand experienced a chronic benefit over the period of months and years for the diligent work we did. The will and grace of efficiency by our team led to a strong online presence of the brand.
The improvement that was measured and tracked every week and month was reported to our client. Our 100% transparency reporting made them trust us more accurately. We always adhere to ethical practices, tools, and techniques that functioned magnificently. The ethical method is none other than White-hat techniques.
We, at Webindia Master, preferably focus on gaining organic search rankings as compared to any other means. We most importantly pay our attention to every trivial detail and idea about the brand website involved to make an undivided plan of every product individually.
Conclusion:
This home appliance industry case study shows the passion we inherit in creating a foundation of the online existence of any company, or firm, involved. Maharaja Whiteline has successfully achieved great progress of awareness when it comes to the digital address they maintained. Our services worked in favour of their business and saw a great hike in potential audience visiting the website or web page.
We, at Webindia Master widely focused on building an empire for retaining the brand image in the digital market on the global face. Search Engine Optimization or SEO services bridge the essential gap required for flourishing the business.
Importance of SEO Services:
The SEO services are ensuring as this is one of the best cost-effective solutions any company can avail of. The only factor is to choose the best SEO agency that will be credible enough to create a huge difference for the business.
We, at Webindia Master, follow the exact rule format to come up with a unique and beneficial strategy and plan for the business to prosper. The basic plan we follow are as follows:
Initial site analysis - Discovery
In-depth research of keyword
SEO Strategy – Planning
Implementation
On-page optimization
Off-page optimization
Local off-page SEO
Social Media Optimization (SMO)
Transparent and accurate reporting
Round the clock customer support
Repeating the process on a timely basis
This basic procedure helps us gain the aspired results in a limited timeframe. We work towards improving other profitable services as well.
Success Story Of Maharaja Whiteline:
With the strong boost of SEO services delivered by us, Maharaja Whiteline gained a drastic result of an increase in potential customers and audiences visiting their website. The regards to new possibilities on the internet are being obtained by the brand today with efficient recognition and returns on investment.
The route to new opportunities with Webindia Master was their ideal turnover of the digital acknowledgement they received. The brand had all it takes to fly and reach new heights. All we did was to carve it in the best shape possible to make the flight right!
To know, learn, discover, and explore more about the organic results from SEO services connect with us soon.
"Let us paint a new wing that has the efficiency to balance and withhold the weight of your brand."